Call Us Today
608-268-8453 (TILE)
Hours - 8:00 AM to 4:00 PM - Monday thru Friday
Backsplash Tile Adds Personality and Performance To Kitchen Design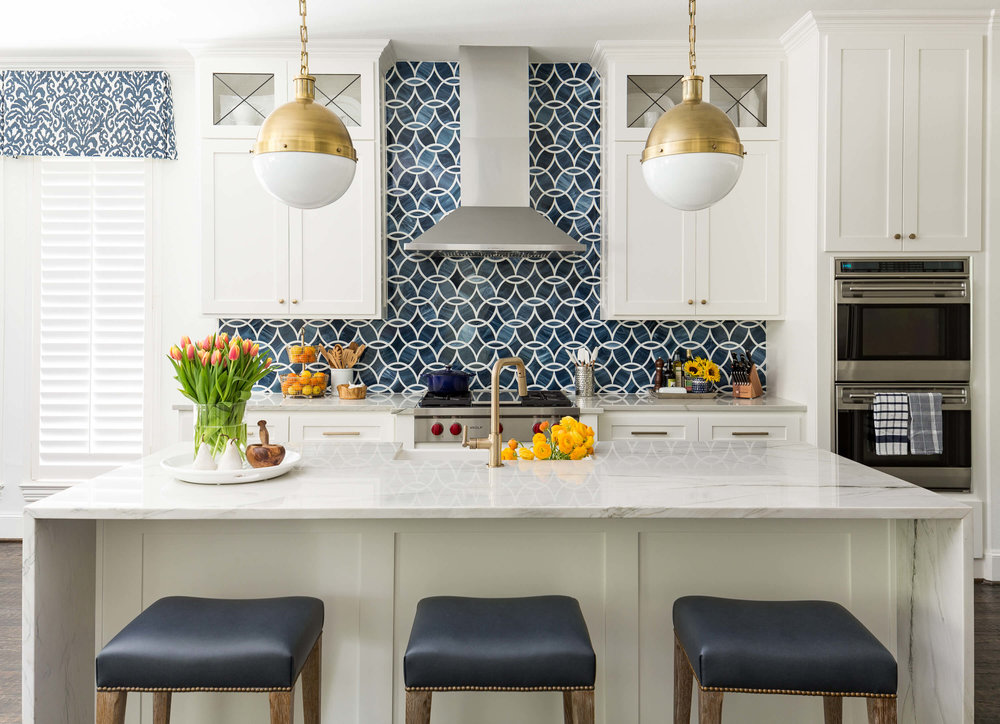 If you can imagine it, you can have the backsplash tile of your dreams. Literally "anything" goes for your Madison WI kitchen. Local tile installations run from extremely large 6-inch by 48-inch tile planks to tiny 3/8-inch square tiles. Create whatever fits your lifestyle with accent colors, stripes, patterns, reflective surfaces and unique works of art. Go from a farmhouse look to a personal mural.
A custom tile backsplash is No. 1 on the priority list for new home builders and remodelers. Two out of every three visitors to the Molony Tile showroom are looking for backsplash tile ideas and suggestions. The idea of the backsplash as a décor feature has bloomed in recent years. Today backsplash installations go well beyond protecting the wall behind the stove or sink. Your modern backsplash may encircle the room and stretch from countertop to ceiling. Are you ready to get creative in the kitchen?
Backsplash Tile Sets The Stage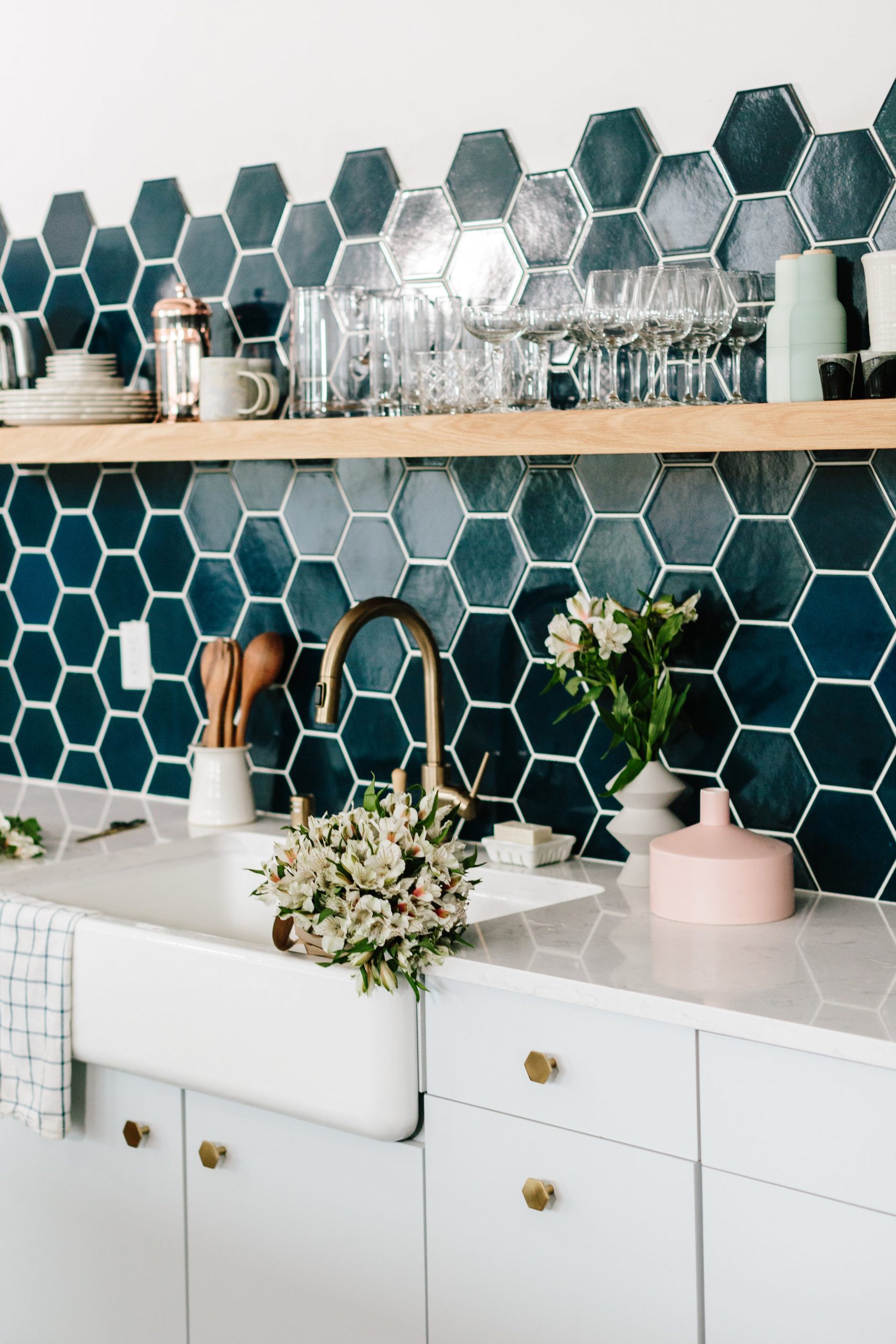 Simple, basic squares and rectangles have given way to unique patterns, bold colors and appealing textures. Hand-painted cement tile adds dimension and natural stone tiles create rugged good looks. Kitchen tile not only reflects your interior design favorites, it sets the stage for your preferred style. You can build around a creative backsplash to enliven everything from a classic farmhouse country kitchen to an uptown industrial loft. Are you looking for a way to let your personality loose in the kitchen? Whether you want to stick with tradition or make a splash, consider these options to complement your kitchen backsplash ideas:
Squares and rectangles– mix and match these basic shapes and create your own patterns. Incorporate colored or contrasting grout to add interest. While the shapes are familiar new sizes, textures and material choice will surprise you.
Hexagon tile– among the most popular tile choices for backsplashes, these unique shapes create dynamic patterns. Available in an assortment of sizes and colors.
Geometric layouts– create your own art work as you combine hexagons with diamond-shapes and squares. If you can dream it, there's a way to mix and match tile to make it happen.
Go High-tech– digital, high-resolution printing advances make it possible to put unique patterns and designs on tile. Do you want a wall that looks like fabric, a mirror or a metallic finish?
In the past little thought was given to backsplash tile. Your choice a medium-size square or rectangle. Colors choices were limited, too. Occasionally, especially in older homes, you'd find a decorative tile with a pattern on it mixed in. What we've come to call "subway tile" was used extensively. Subway tile styles remain popular but today's backsplash tile choices go way beyond the basics.
Choose The Best Tile For Your Kitchen
If you're planning a kitchen remodel there's a long list of decisions to make. Near the top of the list is how much space you'll devote to wall tile. Will you go with a simple backsplash or include a countertop-to-ceiling statement wall in your kitchen renovation?
As you make these basic decisions, consider the role you expect the tile to play. Do you want it to be the focal point in the room or an accent to overall décor? Do you want cabinetry and appliances to standout with the backsplash feature a subtle background? As the plan forms you'll be making tile-relate choices, including:
What type of tile – do you want popular and versatile porcelain tile, ceramic tile, glass tile, real stone tile, colorful cement tile or some other exotic creation?
The final finish – the basic options are glossy or matte finishes. However there are also surface contours to consider – flat or textured, mirrored, highly-reflective?
Color – no matter what color you dream of there's a tile to match. There are so many colors in fact, the decision isn't as easy as you think.
Styling – do you want to create an artistic mosaic by mixing tile sizes, shapes and colors? No problem. Highly-reflective finishes create multi-dimensional looks. Choosing the right tile for your backsplash makes a small space look larger.
Grout options – not only are there grouts with various attributes designed to make them work better with specific types of tile, there are colors to choose from, too.
Tile sealants – the word "splash" is part of the creation for a reason. The tile is there to protect walls. It is normally sealed when it is installed and again periodically depending upon its position and use. Modern grouts include a tile sealant as part of their composition – eliminating a step during installation.
I recently worked with Molony Tile for the final stage of our kitchen remodel which was the tile backplash. When selecting the tile, I was given information to consider on type of tile and if there would be any sort of maintenance depending on the material and also amount of grout line to consider. After selection, Steve came to measure and gave some instructions on what was needed to be done by a carpenter in regards to going around the cabinetry lip so everything looks nice. Another company did not come up with this solution. Molony Tile's recommendation of installer was excellent also, the job was completed in one day and just a great finish to our kitchen.
Choose Kitchen Tile To Reinforce Decorating Style
Advances throughout the tile industry have moved backsplash designs into the 21st century. And, your creative options are expanding every day. Do you want the weathered look of reclaimed barn wood on your kitchen walls? There's a tile for that. Or maybe you'd like a really rustic look using natural stone tile. There are several options for that, too.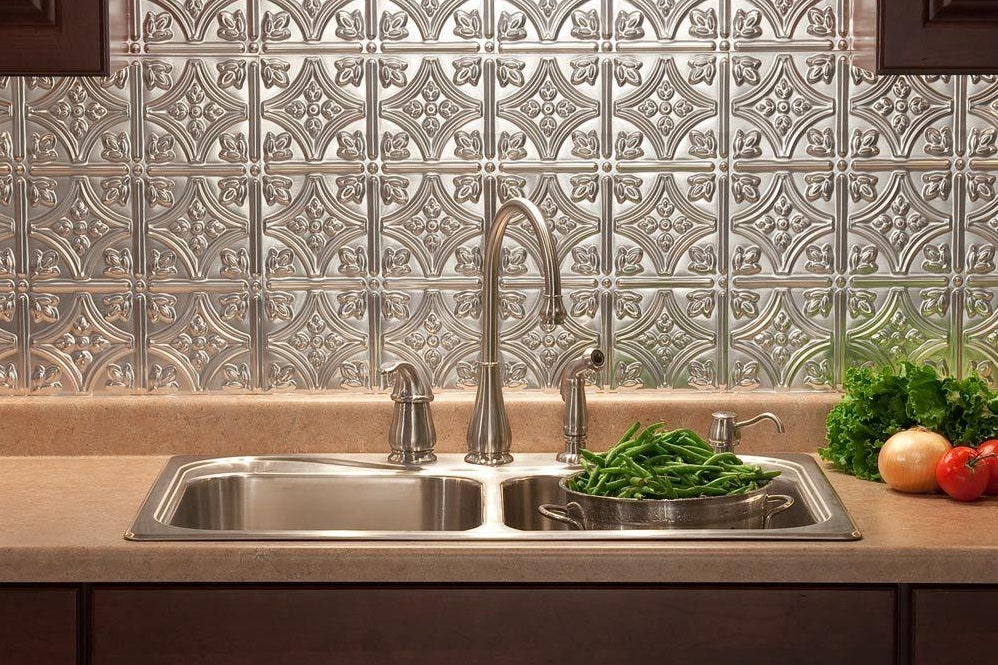 Mirror finished tile and tiles with metallic finishes literally reflect the designer's goals. A mirror finish makes the most of natural light. Extended to the ceiling it becomes exceptionally striking. Reflecting surfaces work well with under cabinet lighting to spread light evenly.
With a trend toward industrial-look appliances and countertops, metal finish tiles provide and understated feeling of strength. In smaller sizes they offer additional artistic interest. Some "tin" and copper tiles reflect popular choices of bygone eras, too.
Don't Overlook Kitchen Tile Shape, Color And Size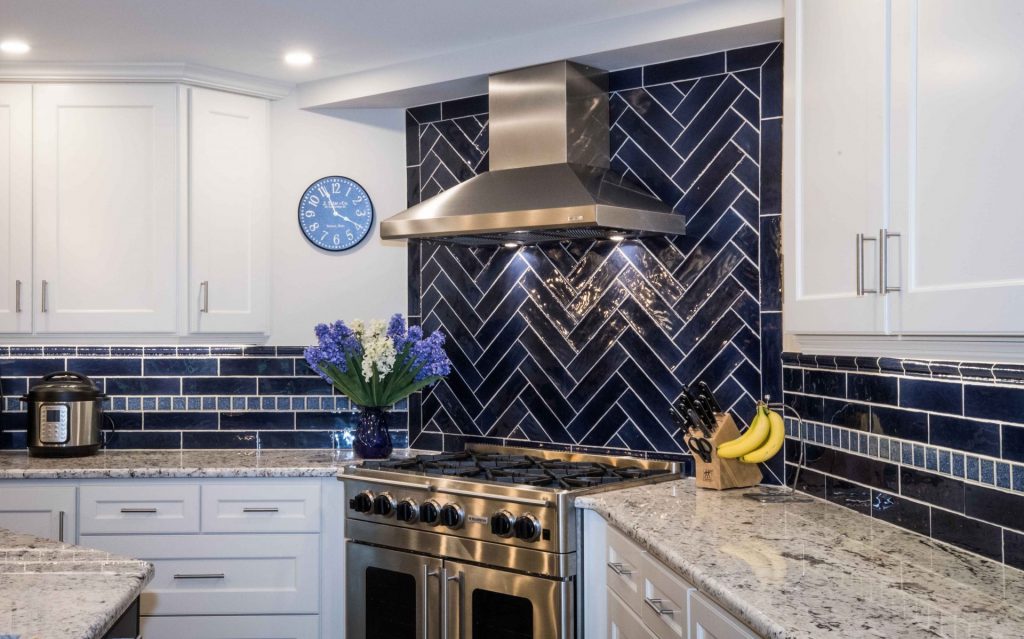 Tile makers and kitchen designers experiment with shapes and patterns. You'd love something unique instead of plane ol' squares and rectangles in your kitchen, wouldn't you? Hot patterns include applying standard shapes in checkerboards, herringbones and chevron patterns. Or, mixing and matching for your own personal design. You can move from just covering the wall to protect it to creating a piece of art.
Designers warn against trying to do too much or make the limited area "too busy." Too many shapes and sizes going different directions looks cluttered. After a while you may get tired of it – and once the tile is on the wall, it's not something you want to take down and redo.
With the trend toward countertops with more subdued patterns and white or gray cabinets, more pattern in backsplash tile works. With dark, natural cabinetry and a multifaceted texture in granite countertops, designers suggest keeping backsplash designs simple. But there's no hard and fast rule that says you cannot use an explosion of color anywhere you want. Look around at magazines, videos and TV. You'll see backsplash installations using everything from white tile to black tile and every hue in between. Actually, your kitchen backsplash is a perfect place to introduce a pop of bright color like red, dark green or denim blue.
It makes sense to make the kitchen special since you and the family spend so much time there, doesn't it?
Get Creative With Colored Grout
Grout, the nondescript stuff between each tile that holds them together is often taken for granted. I needn't be an afterthought. When you use large format tile planks it hardly shows because the seams are so small. With standard, smaller tiles it is prominent. In the past you had few grout options and even fewer color choices. Today you can choose to match the color of the tile or provide an eye-catching contrast. Dark grout makes white tile "pop" and white grout has the same impact on dark tile. If you've chosen a backsplash tile with an elaborate pattern like a hand-painted tile, you want grout to blend into the background. Matching tile and grout keeps the eye focused on the tile not the accent.
Today there are dozens of color choices for grout, but they all fall into three basic categories:
Dark colors – black grout is available for high-contrast applications, but other dark hues are popular as well. Dark blue is popular as is red. A single color can be called both dark and light depending on intensity. Choose dark colors for their ability to mask dirt. However darker colors can fade over time with repeated cleaning.
Light colors – light colors don't hide dirt as well and although they do fade it doesn't show. Light colors provide a more cohesive look to tile installations. The standard is white grout with white subway tile, etc.
Neutral colors – white falls into the neutral classification, too, along with shades of gray and tan. Neutral colors don't make statements, they blend in. Use a neutral when you don't want to get a reaction. Gray is a hot color for grout because it is subtle and easily recedes into the background.
Don't Under Estimate Backsplash Tile Upkeep
No matter where you use tile in your home, it takes basic maintenance to keep it looking clean and fresh. That's especially true in the kitchen where spills and splashes are likely. Some tiles really are "wipe and relax" easy to clean. Other are more demanding. Recent events have made homeowners much more aware of the need to protect surfaces from germs, molds and mildew.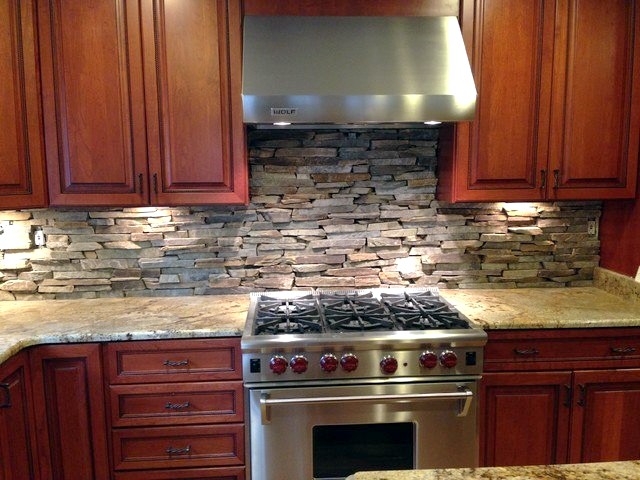 Porcelain backsplash tiles are popular because of the many surface options and glazing that makes them resist moisture. Any tile that's naturally porous should be avoided – although tile sealants will help, they require more maintenance than you might be willing to deal with. As you shop for tile, check labels or ask about porosity. It's measured by the ratio of air bubbles to solids in tile and explains how each piece absorbs water. In the kitchen where moisture is common, highly porous tiles are not a good idea. Porosity classifications include:
Impervious – water absorption is less than half a percent. Ideal for kitchen backsplash installations.
Vitreous – absorbs up to 3% of water on its surface so it's less than ideal but with proper sealing it work.
Semi-vitreous – absorbs up to 7% so it isn't a good kitchen backsplash choice.
Non-vitreous – absorbs more than 7% and definitely not recommended for use anywhere spills and splashes are common.
Professional Backsplash Tile Installation
When you commit to a kitchen remodel you're looking for a long-term solution, right? While a skilled do-it-yourselfer can do the job, every tile installer can relate tales of salvaging a homeowner-started project. There's a lot more to installing tile correctly than you might expect. Before you decide to tackle it yourself consider benefits of professional tile installation:
Efficient timely installation – an experienced craftsman knows the shortcuts that save time and add value. And "shortcuts" that slow things down and reduce quality.
Accurate estimates – a professional knows how much tile, grout and adhesive it takes based on experience. A pro makes accurate measurements and calculations reducing waste – saving money!
Avoid water damage – poorly installed tile or grout allows moisture to seep into cracks. Mold and mildew finds those damp places.
Warrantied work – not only does the tile you choose have a manufacturer's warranty, the installation pro's work comes with its own workmanship warranty, too.
Tools and training – fitting, cutting, setting and grouting tile requires more than skill and experience. It takes the right tools and knowing how to use them. A do-it-yourselfer can buy, rent or borrow tools but a pro comes equipped for every job – and the pro knows how to get the most from each one. NOTE – if you're sure you want to go the DIY route, Molony Tile will help anyway it can, providing tips on technique and tools to go with high-quality tiles, grouts and adhesives.
Madison's No. 1 Backsplash Tile Source
Molony Tile is the region's leading tile resource, serving contractors and homeowners for more than 70 years. Molony's experienced and skilled craftsmen have provided tile workmanship throughout the Madison area – from quality installations, and advising contractors to showing homeowners how to do it themselves.
I've personally used and referred the services and products of Molony Tile to many friends, family and clients. I certainly wouldn't refer a business to anyone that I personally wouldn't trust myself. Great products, great service, and superb workmanship.
Have you sorted out all the options:
Ceramic tile backsplash
Porcelain tile backsplash
Cement tile backsplash
Hand-painted tile backsplash
Stone tile backsplash
Custom tile backsplash and mosaic designs
Grout options
Floor to ceiling backsplash installations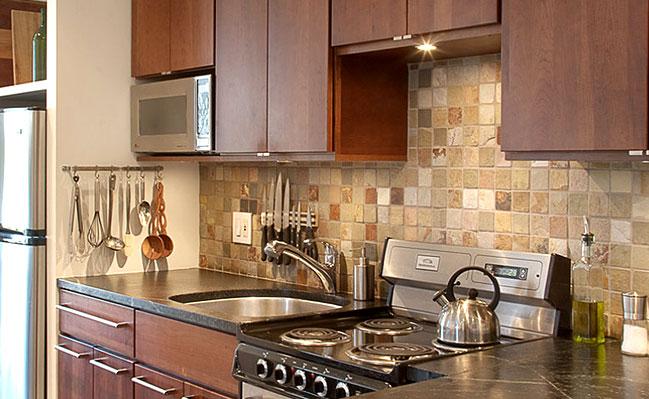 It's a long list. Making all the decision that are right for your family is a challenge. It's nice to know there's a team of professionals within reach though, isn't it? When you decide to go ahead with your kitchen tile project, check out our kitchen gallery of finished projects as well as our showroom images to see all the tile choices we display. Then, give us a call and set up an appointment to see it all for yourself. You'll be amazed at all the colors, shapes, sizes and distinctive tile styles we have in stock. And, if you don't see what you want, we can get it! If you think you know all that's available, be prepared to be introduced to options you never knew existed. Not sure? Check out our list of tile suppliers. It's constantly updated and improved – there are more than 30 tile suppliers listed right now!
Now's the time to plan your kitchen renovation and a tile backsplash is the perfect showpiece. We're ready when you are – give us a call to 608-268-8453 or email us to make an appointment. Our inventory of backsplash tile and our experience is second to none in Madison WI.