Molony Tile - THE Source For Tile In Madison WI
The Place To Go For Porcelain Tile, Ceramic Tile, Everything For Your Tile Project
Everybody likes a fresh style. It brightens your day. When your Madison WI area home needs refreshing there's no better way than updating around a selection of porcelain tile or ceramic tile.
That's especially true in the kitchen and bathroom – nowhere does your daily routine wear more on its surroundings. Other rooms deserve to be energized, too. Now's an ideal time to invigorate your life.
If you're planning to renovate and update to add luxury and elegance, tile is the answer. There's a look and feel of decorative tile just right for you. You just need somebody you can trust to walk you through the process, right?
We are here for you!
CALL US TODAY! 608-268-8453 (TILE)
'There's A Tile For That'
Tile reflects personality and style. Colors, shapes, patterns and textures allow creativity to shine. Generate a "wow" response with the right choice.
You love your home and the thought of moving just to upgrade the kitchen or bathrooms is staggering. You can create a new home within existing walls. Tile is the designer's choice today and the wave of the future.
Whether building a new home or remodeling, tile fits. It provides a fresh, inviting climate in bathrooms, kitchens, laundry rooms, entryways and throughout the house. It's versatile, rugged and stylish.
Porcelain Tile A Well-known Choice
The two most popular materials – ceramic tile and porcelain tile – offer hundreds of choices, options and combinations. Everyone asks:
What's the best bathroom tile?
What should I use for a kitchen backsplash?
Does all tile work both as floor tile and wall tile?
Porcelain tile is extremely popular. It is stronger, more water-resistant and shinier than basic ceramic tile. Hard and dense, it stands up to abuse. Porcelain is ideal for kitchens, bathrooms, mud rooms, laundry rooms and entryways. Use it on walls and floors.
There are advantages:
Resistance to moisture – denser and less porous than ceramics, porcelains are very resistant to spills.
Stain resistant – porcelain creations deflect stains. Staining liquids don't easily seep into pores. Resistant to juice, tea and coffee stains, these are excellent choices for a new kitchen floor. Pet and kid accidents clean up fast along with mud and tracked in debris.
Durable, rugged – porcelain stands up to traffic. You'll find it in high-end commercial situations because it withstands punishment from foot traffic and heavy furniture.
Long-lived – with proper care few flooring materials outlive porcelain tile floor.
Low maintenance – a simple washing to clean the surface and the grout keeps floors looking great.
Porcelain isn't perfect. The two most common disadvantages are:
Weight – the tiles are dense, strong and heavy. Tiling a large area means adding a lot of weight – more than a hardwood floor. Weight is even more important when planning for wall tile.
Grout – the tile itself is easy to maintain but grout demands attention. Grout keeps moisture from seeping between tiles. Over time dirt and grime attach to grout. It must be scrubbed. We'll help you learn more about grout.
Ceramic Tile – Another Popular Option
The other most common choice, ceramic tile, is less dense, softer and more porous. Anywhere there's a risk of spills moisture is a threat. Ceramics are best used away from showers, mud rooms and laundry rooms.
Ceramic tile has advantages:
Design options – because dyes are added to ceramics as they are created you can get them in almost any color and complex patterns.
Sizes and shapes – mixing the many size and shape alternatives creates unique one-of-a-kind looks.
Less weight – less dense, these tiles don't add as much weight so they're better suited for walls and kitchen backsplashes.
Allergy-friendly – if your family deals with allergies, ceramic is a wise choice. Pet hair, dust and minute particles don't stick to it like carpet or wood.
Ceramic tile has the same concerns for keeping grout clean. It requires sealing. In addition, less dense and more porous, ceramic is not as water resistant.
What our clients are saying:
We were referred to Molony Tile by someone as they said they have a ton of options. I am so happy we were!! We spent about an hour there where they made a lot of great suggestions! They even looked online for a tile I found online to see if they could find it for me after I was unsuccessful. After quite a while of searching I showed another photo of my 2nd option and they told me they just used that same tile on a recent project and have me some left over pieces they could send home with me free of charge to see it in my own home. They were also super honest when it came to pricing! I would go back in a heartbeat and suggest them for your next project!
The folks at Molony were on top of their game. They helped us pick tiles (and grout), gave us great advice on some looks we hadn't considered, and in the end, gave us a beautiful hearth. Excellent work, we'll be back when we remodel our kitchen….soon."
Super helpful, willing to provide expert advice for DIY projects. Prices are very fair, great selection in stock and all the supplies and odd bits you need to do a professional installation.
Decorative Tile Goes 'High-tech'
Among the fastest growing advances in tile technology is the use of thin porcelain tiles (TPT). Much thinner than traditional tile they have several advantages. One for sure gets attention:  you can install them right over existing flooring. And, thin tiles come in larger sizes for unique applications on walls as well as floors. They're water-resistant so they're great as bathroom tile. There's even a soft-glaze version that can turn a wall into a chalkboard. Handy for keeping the family connected or just fun for the kids, right?
The highest of the high-tech applications is using sophisticated inkjet printers to apply brilliant colors and intricate patterns to tile. You can have tile with a textured look of fabric, wood or metal. Are you ready to for a Bucky Badger or Packer themed bathroom?
There's a trend toward using salvaged materials for a natural, weathered look or industrial vibe. Modern tile designs allow you to have a "reclaimed barn wood" backsplash, an "old brick" wall or a burnished metal shower. All made from custom-designed tiles.
For a bathroom all you once worried about was: is it easy to clean and does it repel water. Now you have many color, style or design options.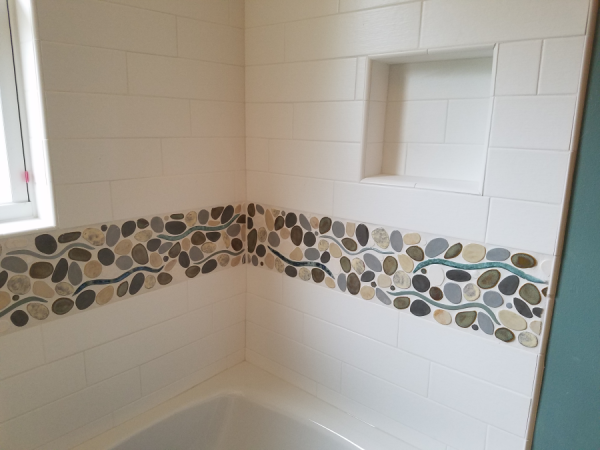 Tile in the bathroom has jumped into the 21st century in a big way. Without giving up any function tile makes a statement. Your lifestyle shines in a new bathroom!
Tile-makers are focusing on finishes, colors, shapes and patterns. Basic squares and rectangles haven't gone away. But now, they have plenty of company.
Today you have tile for walls, floors, showers and every nook and niche. You can create with any size from board-like tile planks to penny-size mosaic tile. Consider the number of custom finishes alone:
The soft matte finish
A traditional glossy shine
Custom textures on the surfaces
Metallic finishes and even mirrors
Graphic patterns to set the mood
Whatever your plans call for, look to us for the latest porcelain tiles, ceramic tiles, cement tiles, glass tiles and all the trend-setters.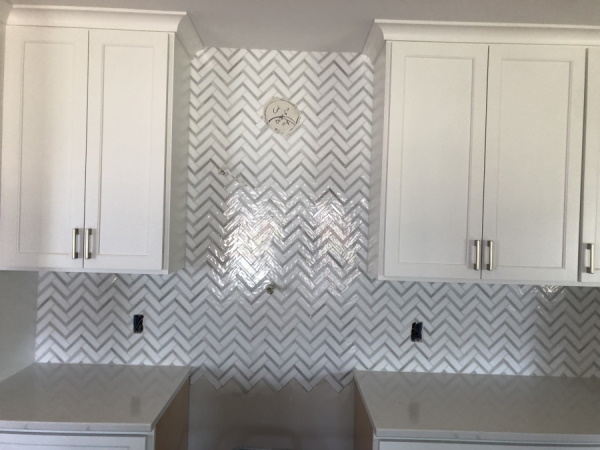 Not long ago the term "backsplash" was seldom heard. Today it's front-and-center. Choosing the perfect kitchen tile for a standout backsplash tops the list of choices for the kitchen. Finally, the tile backsplash has gone from protective surface to design feature. It lets your creativity shine. We've done more kitchen tile projects than anyone in the area. Check out or gallery!
The kitchen is the hub of the  home. It hosts meals and provide food prep space. And it serves as study area, home office, coffee bar and all-around gathering spot. Adding tile to floors and walls increases the appeal of the space and makes it easier to maintain. With your busy lifestyle, doesn't the idea of an easy-clean, ultra-stylish yet efficient kitchen make sense?
Tile Specialists Ease Decision-making
Molony Tile has provided high-end tile products, planning expertise, professional tile installation and expert consultation to homeowners and contractors in southern Wisconsin since 1950. Nowhere in the area will you find more experienced professionals. We've earned the title of tile experts.
Our skilled, dedicated staff is ready to help with the complicated choices – for both contractors and ambitious do-it-yourselfers. Our expansive tile showroom displays more tile options than anyone in the area. You will find everything from classic to contemporary tiles in all sizes, shapes, textures and colors. If we don't have it in stock, we will get it! Check out our ever-expanding list of tile resources.
Working with remodelers is our special niche. But many of the area's best custom home builders are customers, too. Whether for new construction or a renovation our craftsmen are well versed in every aspect of your tile job. When you're looking for bathroom tile to update or expand, kitchen tile
When you're ready to take on your tiling project, we're ready, too. Our inventory houses a wide variety of choices, including:
Ceramic tiles
Porcelain tiles
Natural stone tiles – including quarry stone, field stone and brick
Granite tiles
Cement tiles in dozens of patterns and color combinations
Metal finished tiles – including mirrored finishes
Concave surfaced tiles
Wood-look tiles – in all the popular shapes from traditional to "planks"
Penny style tiles
And, we have experience installing them all!
A Special Touch – Under-floor Heating
If you want to add a special touch for chilly early morning starts, consider installing under-floor heating in your bathroom. The latest technology provides even heat throughout the room, thermostatic controls and timers to warm the floor a few minutes before your alarm goes off. Nothing is better suited to perfect, uniform in-floor heating than modern floor tiles.
Universal Design, Aging In Place and other buzz words are applied to making your home user-friendly as you get older. It's remodeling for all ages. The strategic use of tile is perfect for a universal design. Especially in bathrooms. The right tile not only makes the room appealing, it makes it safer and more practical.
The focus in the bathroom usually begins with the shower. Unless you're looking to install a walk-in bathtub, a traditional tub is far less versatile and not nearly as safe as a large shower. Especially a large easy-access walk-in shower.
When you combine water with potentially slippery surfaces you have the formula for a fall. NOTE: Government and insurance industry statistics show the shower is the most likely place anyone, no matter their age, will fall at home. Making it easier for everyone makes sense, right?
Modern floor tiles offer non-slip textures. Designs provide for lip-less shower entry to accommodate a wheel chair. With slightly angled flooring and special edge drain systems these showers are easy and safe to access with or without a wheelchair.
Today's spa-like master bathrooms are well suited to aging place. If you're adding or remodeling a bathroom consider including features you will enjoy for decades. Consider built-in seating, convenient easy-to-reach shower niches and easy-access fixtures.
When You're Ready We Are Too
The basis for our business philosophy is simple: we listen.
We listen to what you need.
We listen to what you want.
And we pay attention to what you don't
No matter what stirs your imagination, we're ready to find a perfect match within our array of ceramic tile, porcelain tile, glass tile, cement tile, stone tile and specialty options.
If you're looking forward to a Do-It-Yourself adventure, you're welcome at Molony Tile. We'll provide professional instruction, advice and professional tools for the job. Or, we provide professional installation. We've got whatever it takes to get your tile project done fast and efficiently. In the end, getting a cost-effective project you're proud of is the goal, right?
Contact Molony Tile for insight plus experience.
Choose our knowledgeable team to coordinate your tile project. We have the best selection of stone, cement tile, glass tile, porcelain tile, ceramic tile – or something truly unique – anywhere in Madison WI.
We're located in Madison, Wisconsin
next to Coyle Carpet.
"If you do it yourself -
you're not alone"
2300 S Beltline Ct • Madison, WI • 608.268.TILE
Hours – 8:00 AM to 4:00 PM – Monday thru Friday