All over the country homeowners are taking out carpet in favor of wood floors. Or are they? Wood-look tile is one of the strongest flooring choices for anywhere in your home. Tile options are expanding constantly with large, wood-like planks leading the way. Your Madison WI home can have the appearance of classic or exotic wood and the benefits of tile rolled into one.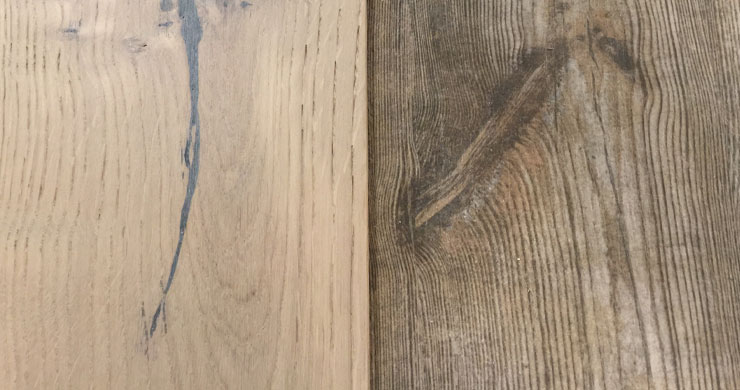 Tile is available in eye-catching patterns, shapes, designs, textures and colors to mimic nearly any real wood. The warmth and appeal of wood is replacing the sharp resemblance to natural stone that made ceramic and porcelain tiles popular for floors. Modern natural wood matching tile is the hottest trend on floors. Once considered mostly for kitchens and bathrooms, tile floors – thanks to the wood styles – are accepted throughout the house. They have proven ideal for entryways, mud rooms, laundry rooms and any high-traffic areas.
Review Wood-look Tile
Modern tile mimics the look and feel of real hardwood, laminates and other natural wood products. The wood lookalikes include wire-brushed, hand-scraped and distressed finishes as well as natural stained. At first glance, many tiled floors are easily mistaken for the real thing. Review these finishing options:
Wire-brushed – displaying subtle, intentional wire scratches leaving the heart of the "wood" exposed. Imperfections are smoother and more consistent than distressed or hardscape looks.
Rustic, Hand-scraped – provides the outward appearance of long, ingrained scrapes making each tile plank appear handcrafted and unique.
Distress finish – often associated with hand-scraped, a tile plank that represents a distressed look shows a lot of wear and tear. It mimics things like scrapes, burns, knots, worm holes and age.
Durable tile gives your home the warmth and character of real hardwood with a fraction of the maintenance and care.
Choosing real wood flooring or tile is a regular debated. There are many factors in play:
Design style
Variety of wood options
Eco-friendliness
Overall home décor style
Price
Maintenance and care
Real wood and tile look-alikes each have benefits and drawbacks. The biggest, most obvious advantage of tile is initial cost. In most cases it is significantly less expensive than hardwood.
Balance Real Wood vs. Tile
Take time for a direct comparison of real hardwood flooring and its tile look-alikes. Compare an assortment of considerations, including:
Durability—

Hardwood is resilient but wood is susceptible to water damage, especially with long-term exposure. Wood also needs protection from grit, debris and the nails of your pets. Sanding and refinishing can prolong the life of wood but it is a demanding form of maintenance.

Ceramic and porcelain tiles are sturdier than most hardwood floors and can withstand more weight and heavier traffic. Moisture doesn't affect tiles. Tiles can chip or break, especially as they age – but can last for 20 years or more with proper care.

Handling weather—

Water and humidity are true enemies of most hardwood floors. Wood also expands and contracts with changes in heat and cold. This thermal expansion causes wood to bend, swell or shrink. Heat and moisture cause discoloration to wooden floors.

On the other hand, tiles don't have any of these issues. They tolerate extreme weather changes much better than other flooring choices.

Cleaning—

Wooden floors are relatively easy to clean, especially using special hardwood floor cleaners – both tools and products. Protecting wood for dust and grit is essential because these minor particles will scratch and leave permanent marks. Dry mopping is far better than applying water too often.

Ceramic and porcelain tiles can be cleaned with most standard floor cleaners. Tile too needs care to remove grit and dust. Comparing the two options, tile is easier to clean.
Family-friendly Choices
For a family with kids and friends there are additional points to ponder:
Skid resistance—

How slippery a hardwood floor may be depends upon its finish – smooth or textured, high-gloss of hand-scraped.

Tile isn't necessarily more slippery than real wood. It also depends upon its finish and size. Smaller tiles have grout between them and these seams help reduce slipping. Polished tiles are slipperier than textured versions.
Both Canada and the United States have national standards for a traction scale applying to all flooring products. Therefore products must be labeled with their rating on a traction scale. Read the labels and you'll get an idea of how slippery your choice might be. Work with a specialist that provide the right solution for your application, can manufacture custom labels and stickers.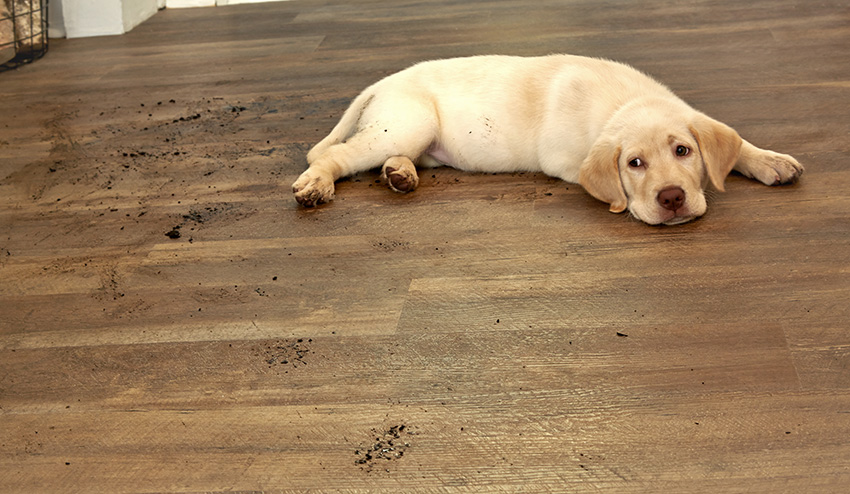 Noise—

Wooden floors are considered louder than most other flooring. Wood has tiny space pockets that echo sound. Drop keys on a wooden floor and they make noise. Footsteps echo.

Tiles are condensed so noise doesn't echo. In many tests, tile proves quieter than hard wood.

Kids & Pets—

All wooden floors are prone to scratches and kids and pets are prime movers of things that leave permanent marks. You can be certain a wood floor will get scuffed and scraped. Light and polished floors show damage more readily. Engineered wood flooring is usually more durable. Polyurethane finishes provide maximum protection with minimum maintenance.

Although tiles scratch – especially in areas where there's a lot of furniture movement – they aren't easily damaged by pets or children. In areas where water regularly hits the floor, the chances of children or pets slipping goes up.
Design Variations
Real wood obviously has natural limitations. No matter how your polish or stain it, wood only comes in variations of brown. There are dozens of textures and finishes.
There are many more options with ceramic and porcelain tiles. Not only are there many shapes, sizes and textures tiles are available in a wide range of colors.
One of the hottest trends in interior design is the use of gray – cabinets, countertops and furnishings. Not, gray wood-look floors are popular as well. No longer does a gray floor have to mimic stone, it easily takes on the hue of weathered barn boards.
In the right setting, gray gives way to white – think the whitewashed look of an old fence.
Hardwood floors have, for years, provided a rich dark backdrop for home furnishings. Blond wood and other lighter shades have returned to favor to complement contemporary furniture. It provides a bright, airy look to go with industrial and farmhouse décor, too.
Tile Made To Fit Your Needs
When it comes to creating a tile floor that looks like real wood, the saying "bigger is better" applies. Tile planks are getting longer and wider. In addition, they are getting thinner. Longer tile planks make a space appear larger, more open and cleaner.
Designers recommend using planks of varying sizes to recreate the look of a real wooden plank floor. Fortunately, tile planks come in different sizes within the same color and style. Planks are available in lengths up to 6 or 8 feet and common widths of 4-, 6- and 8-inches.
Investigate Your Wood-look Tile Options
When it's time to investigate your flooring tile options, consult the professionals at Molony Tile. Our specialists keep up with the trends and understand the pros and cons of all the many tile choices. If you don't see what you want, we can get it.
Molony Tile is the areas prime source for unique, durable and elegant tile solutions. Call or email Molony Tile, 608-268-8453 to explore the wood-look tile flooring options for your Madison WI home.