In the 21st century farmhouse style is defined by warmth, simplicity and natural touches combined with modern materials. That means farmhouse tile includes hexagonal, subway, encaustic, patterned and wood-look designs. The farmhouse kitchen in today's Madison WI homes blends old and new. Achieving the modern farmhouse feel combines fresh new materials with traditional applications. Antiques and vintage furnishings easily combine with the latest in tile trends. In fact, there is no one tile shape, color or design exclusively for a farmhouse.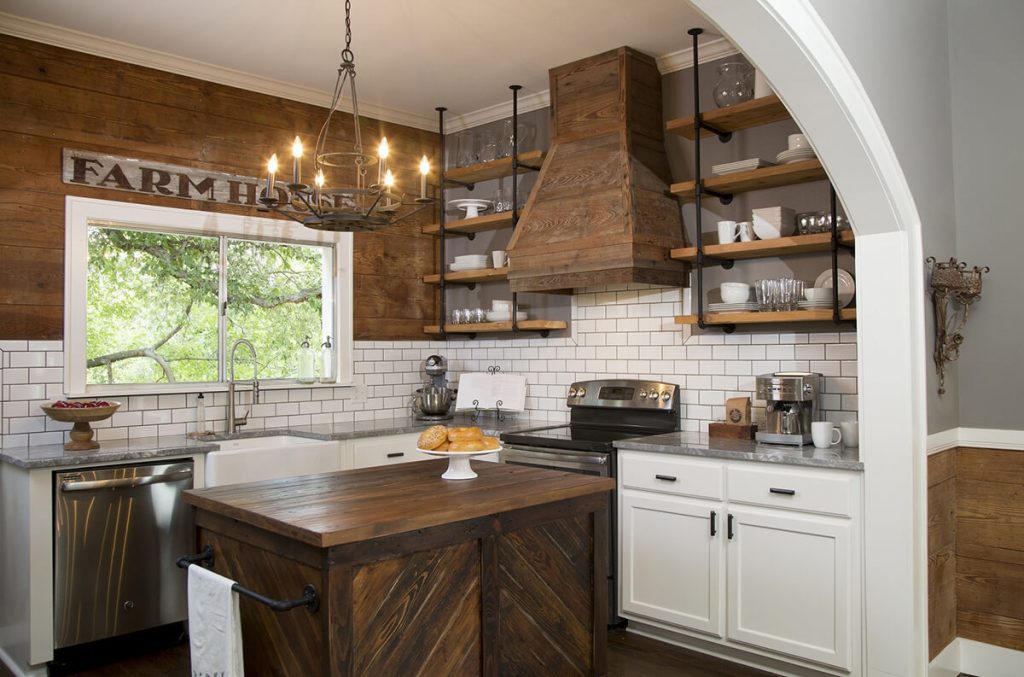 Farmhouse Tile Has Wide Appeal
Tile used in a farmhouse design defines the product. It comes in many versions:
Metallic
Wood-look
Encaustic and patterned
Hand-made
The tile used in this trendy design form goes by as many names as the design itself: country, rustic, early American. The name changes to appeal to the interests to the audience. There are hundreds of tiles that fit the mold of a modern farmhouse. Review the broad categories before diving into the dozens of options available in each one.
Modern metallic tile – before you think metallic tiles are too industrial to be country, consider the amount of metal used in an old-time country kitchen. Metallic tiles add punch to the space, especially choices like brushed or antique copper, silver, brass, bronze or gold. Select tiles offset decorator items like copper sinks and bronze fixtures.
The look of natural wood – anywhere from kitchen to bathrooms natural wood is a favorite choice for a farmhouse motif. Tile mimicking reclaimed barn wood makes a splash in a shower. Wood-look tile is ideal for mud rooms, laundry rooms and anywhere water is likely to hit the floor. Combined with natural wood it provides color, texture and versatility.
Patterned tiles – decorative patterned tiles are a staple of a farmhouse kitchen. Ideal for backsplashes they add color and a hand-made vintage feel. Encaustic cement tile complements traditional and contemporary styles.
The hand-made look – there are modern tiles that deliver the look of well-worn, hand-made vintage pieces. They lend authenticity to the design. Farmhouse interior design elements relying upon hand-made looking tiles include star floors, mosaic back splashes and brick-look elements.
Define Farmhouse Style
The idea of a farmhouse interior design has become so popular that its definition is blurred. It means many things to different people. To some it's well-worn old-school pieces. To others its modern materials in a bright, wide open design. It blends white walls with shiplap and custom-designed sinks. It easily mixes a trendy form with modern function. That's why today's tiles fit so well – that's what they do!
Patterned after late 1800s country homes the farmhouse design of today is airy, clean lines and easily accessible. There's plenty of wood, metal and brick – and tile to mimic these element.
One of the reasons this country-inspired trend has caught on is that it incorporates personalized details. While it blends old and new. It is no-nonsense that is spare but efficient.
For those thinking a farmhouse isn't to their liking, there's another design style that's easily substituted. The two are so similar they're often thought of as one. That's Traditional Design.
Traditional design brings in a bit more luxury, comfort and color. Instead of leaning heavily on white it steps up to beige and cream as favorites. Wood and metal are still major components – usually rich browns wood-look tiles and warmer metal tiles like copper and bronze take center stage.
Make The Most Of Farmhouse Tile
Because it is defined more by location than function – any tile in the farmhouse gets the farmhouse tag – the hundreds of choices easily flow from style to style. There's a third design style using the same popular choices: Transitional Design. It is the crossroads between the tradition/country/farmhouse versions and today's contemporary trends.
Traditional design takes something from both worlds creating a unique style. It truly personalized the space to your lifestyle and favorites. You'll find more gray going with beige and more textures and shapes. Textures, specialty finishes and shaped tiles are popular. Colorful spots of patterned tiles make a statement in transitional spaces. All the elements are carefully choreographed to harmonize in the space. You can have country kitchen blending into a contemporary family room with the right attention to details.
When the time comes to put a sharp pencil to the details and select the right tile for your country farmhouse project, work with the professionals at Molony Tile. Our specialists understand the pros and cons of all the many tile choices and keep abreast of the latest trends. In addition, if you don't see what you want, we can get it.
As the prime source of specialty and traditional tile in the Madison area, Molony Tile is the go-to resource for all your tile questions. Call or email Molony Tile, 608-268-8453 to explore the vast world of farmhouse tile for your Madison WI home.