For years, adding backsplash tile in the kitchen was an afterthought. Tile was installed to protect the surroundings from spills and splashes not as a design element. Design styles evolved and today's Madison WI kitchens are featuring intricate, colorful tile.
The backsplash is no longer a protective surface. It is an important element in kitchen décor come see them at out in the top tile shop Madison has to offer. It is functional and attractive. Among the most sought-after features in a kitchen remodel is a new designer backsplash. Tile can remain in the traditional between counter/stovetop and cabinets position. Or, it becomes a creative accent and runs all the way to the ceiling. Your style and imagination are the driving force.
Traditionally, a backsplash was formed from square or rectangular tiles. Standard subway tile is still a go-to choice. But, today's installations go well beyond standard. Choose from any of the tile types:
Ceramic tile
Porcelain tile
Natural materials like slate, brick or stone
Glass tiles
Cement tiles
Decorator metal tiles
Adding to design options are a series of colored grouts to add definition and contrast.
Choosing Tile For Your Backsplash
Once you've determined the size space you want to hold tile, and your budget it's time to shop for the right tile for your lifestyle. In the beginning, decide the role you want the tile to play – the focal point of the room, complementing high-end appliances, cabinets and countertops or just to protect the wall. You will find the top amazon storage cabinet. If you don't have a lot of floor room, tall cabinets allow you to take advantage of empty vertical space. Subway tiles are sleek, neutral and easy to keep clean even when exposed to water and grease. They are unremarkable so the tile won't detract from your key décor items. Subway tiles come in more sizes and colors than ever and make a strong statement with colored grout.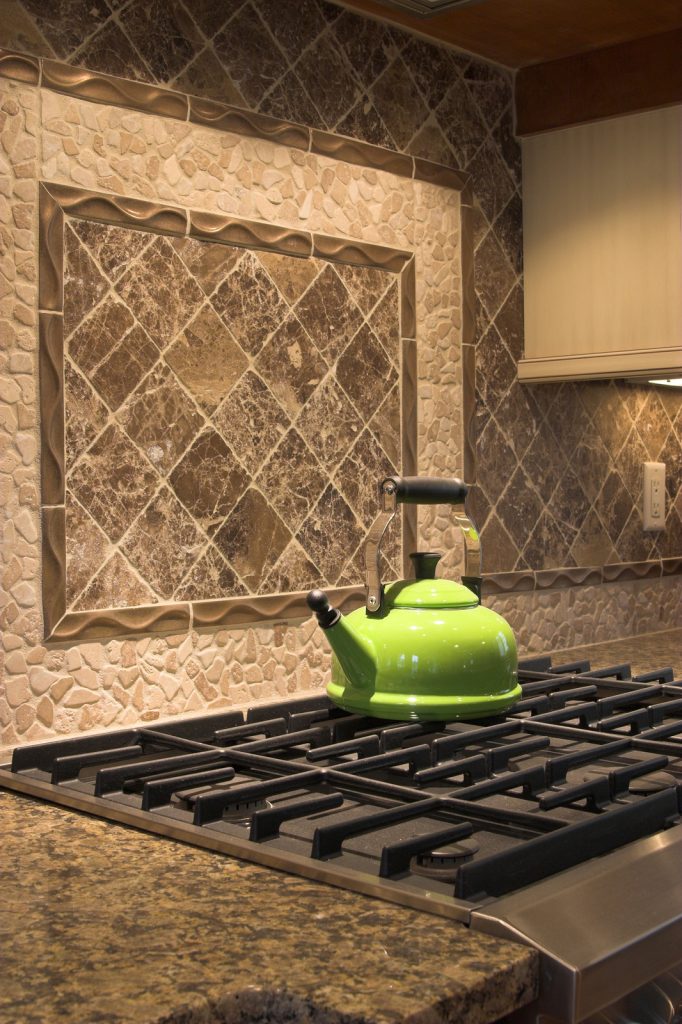 Other decision to make early include:
Tile type – ceramic, porcelain, glass, colorful cement?
The finish – glossy or matte finished? Flat or textured surface? Mirrored, highly-reflective?
Color – you can have anything from basic white to total black and everything in between.
Style – create an artistic mosaic with colors, reflections and multi-dimensions. The right tile on your baxcksplash make a small space appear larger.
Consider Tile Care And Cleanup
Anywhere tile is installed for more than good looks you want easy cleanup. Some tiles are "wipe and forget" while others demand attention. Subway tiles were first chosen because they are more sanitary than other options – they don't host molds and bacteria because they have no porous surfaces. If there are health issues to consider, glass tiles resist stains, mildew, molds and bacteria.
A unique choice popular in families with children is chalkboard tile. Notes and doodles can be added to the tiled walls and easily erased with warm water.
Natural materials like granite and slate are unique and attractive. They are also naturally porous so they accept bacteria and mold spores. Natural materials must be sealed regularly. Any type of stone requires more time-consuming care.
Stainless steel is another option gaining popularity for an industrial look. They don't need grout, don't stain and don't corrode. Reflected light aids in opening up shadows beneath cabinets, too. The big drawback to stainless steel is that its surface shows fingerprints, food and grease splatters. Keeping them spotless takes time and effort.
Backsplash Tile As Décor – It's About Time
The days when wall space underneath cabinets was wasted and tile was just to ward off spills are gone. And that's a good thing. With advances in tile-making technology and designer insights, tile has gained artistic approval. There are enough different, unique materials, styles, colors, textures, sizes, adhesives, grouts, sealants and cleaners to fill huge showrooms. Visit Molony Tile and see for yourself!
Personal preference and imagination is your guideline. When it is time to make select decisions it's time to call the professionals at Molony Tile. Our specialists work daily with all types of tile and understand the pros and cons of each. They stay on top of the latest trends.
Molony Tile is the prime source of specialty and traditional tile in the Madison are. Make it your go-to resource for tile questions. Call or email Molony Tile, 608-268-8453 to explore the nearly endless backsplash tile options for your Madison WI home.