It wasn't long ago that bathroom tile choices came down to basic function – resistant to water, durable and easy to clean. All those features are still important but have taken backseat to aesthetic impact. Bathroom tile has to make a statement. It has to fit your lifestyle and the décor of your Madison WI home.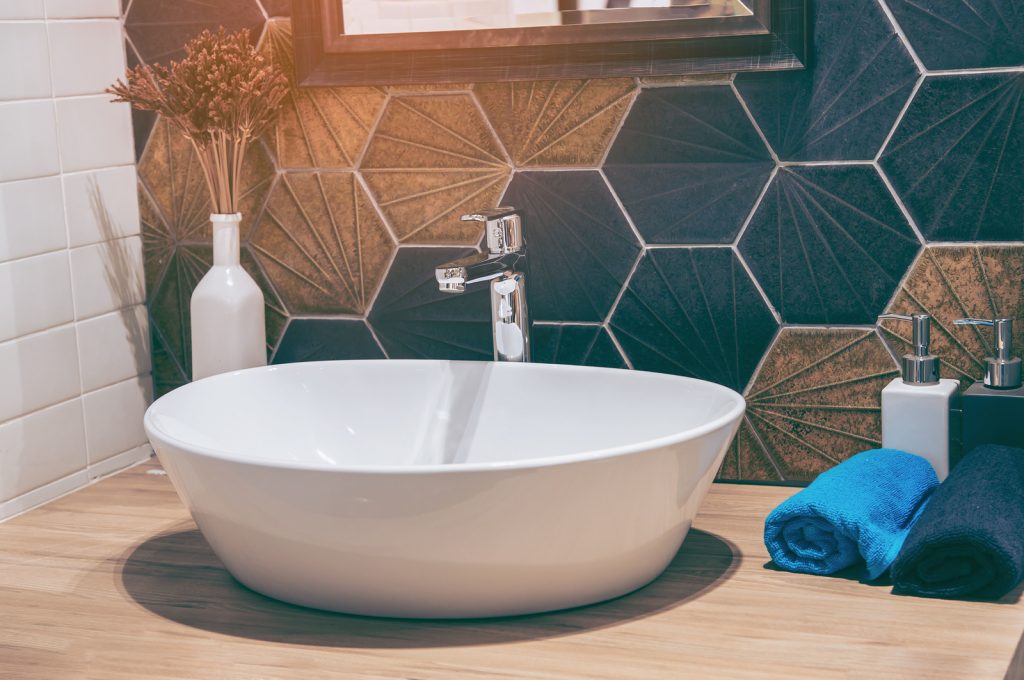 Tile manufacturers all around the world spend research and development hours expanding their selections to provide artistic and unique styles for every interior design concept. Throughout the tile industry, professionals are focusing on finishes, colors, shapes and patterns. Basic squares and rectangles haven't gone away, but they have a lot of company. It's never been more difficult to make the right tile choice – nor as much fun!
Early each year the building and design industries come together for major "show and tell" trade shows. Showcasing all the latest and greatest products. There are several trends sharing the "what's hot in tile" spotlight this season.
Finishes Figure Into Bathroom Tile Choices
How tile reflects light and how it feels in more important than ever. Old-school glossy finish is a popular choice, but variations abound. Among the most popular tile finishes are:
A matte finish
Traditional glossy finish
Textured surfaces
Metallic finishes
Graphic patterns
Matte Finished Tiles – Matte finishes offer a softer yet powerful style. A major advantage of matte tiles is that they don't show smudges and water marks like glossy surfaces. That's their biggest plus, especially in a busy bathroom populated by children. Less shine equals less maintenance to keep them looking good. Most significant drawback is that a matter finish reflects light poorly so you need plenty of light in the room. Using the new colors and shapes, matte finished tiles provide "understated elegance and sophistication."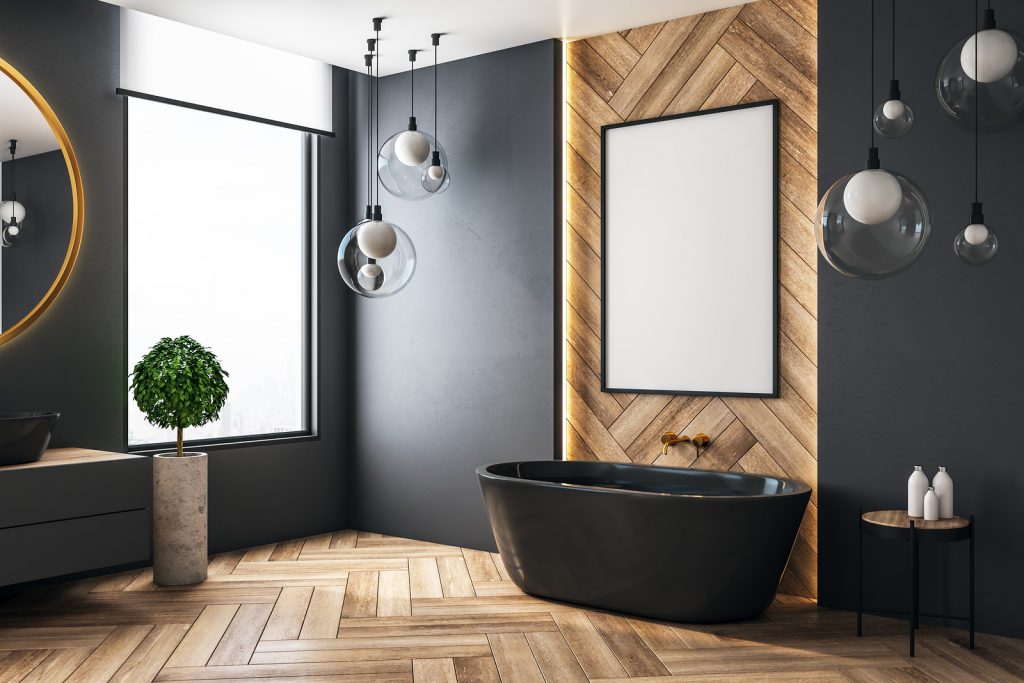 Traditional Glossy Finished Tile – if you're looking for tile for dramatic and eye-catching impact a traditional glossy finish is the right choice. A gloss shine creates a dramatic effect. It is elegant and polished. Especially good in small spaces they reflect plenty of light, creating a perception of more room. Because it takes more work to keep them shining they may not be ideal for a kid's bathroom. And, because the smooth surface gets slippery when wet, it's not ideal for floor tile.
Textured Finishes – for even more variation, surface interest and color depth, consider adding texture. The surface texture might be subtle or dramatic depending upon the material, color and how the finish is applied. Here's an ideal way to put your personality on display, too. There are dozens of textured surfaces applied to tile ranging from "raked" which looks like somebody pulled a garden tool across the tile, to 3-dimensional pieces to create your own art. Combine textures with various shapes, sizes and colors and your choice of combinations seems endless.
Tile Finishes Beyond Ordinary
Making over a master bathroom into a spa-like setting often includes "make a statement" décor. Taking from the popular catch phrase… "there's a tile for that."
Metallic Finishes – Most people don't think of metal walls, but metallic tiles are becoming true shining stars. Using tiles with a metallic or mirrored finish is an up-and-coming trend and isn't right for just any bathroom. These tiles are highly reflective and colorful. They create intense light patterns. They provide and "edgy" feel to a makeover. Metallic surfaces are also very high maintenance.
Graphic Designer Tiles – available in subtle hues and bold, bright colors with intricate patterns this group of tiles brings out the artist in you. Predicted to be a huge trend in the coming year, using patterned, colorful graphic tiles puts you on the leading edge of interior design. Encaustic ceramic tiles lead the way in this category but porcelain styles are coming on strong. Bold prints and bright colors are the wave of this future trend.
Tile Color Sets A Mood
The bathroom, especially a master bath, should be a place where you can relax. Overall color choices set the mood. Bright colors like blue, red and yellow don't fit. Instead, designers opt for neutral colors like gray and cream or beige. And, of course, white remains popular. For small powder rooms, though, it's more and "anything goes" mentality. While not particularly popular an all-black, deep red or navy blue décor reflected in tile and fixtures is an option.
When you want a bright space, white is still the top choice. Neutral colors blend well with all the other elements you bring into the room, giving you multiple décor options. Top designers warn that too much "neutral" creates an almost lifeless feel. When you're looking to create a sanctuary for relaxing they suggest combining neutral colors with interesting textures, shapes and fixtures.
Not Your Grandparents' Bathroom Tile Choices
When you hear the words "subway tile" it is easy to think "boring." In 2020 that need not be true. Even basic 3- by 6-inch white tiles used creatively make a statement. While the shape retains its popular uses subway tiles are available in more colors, patterns and textures – domed, beveled, arched or sculpted. Add a colorful grout and you immediately get away from boring. Take creativity a step further and apply the tile vertically or diagonally for a mosaic effect. There are all sorts of possible options for mixing and matching.
When you want to get away from the squares and rectangles of past decades, geometric-shaped tiles are a great choice. The hexagon is the fastest rising star. Available in dozens of sizes, colors and textures it is ideal for accents where you want a uniquely different look. Mixing and matching colors and surface types is another form of expressing creativity. Once thought of almost exclusively in small sizes for shower and bathroom floors, hexagons are making bold statements throughout the bathroom.
Consider Size In Bathroom Tile Choices
The design world has been taken over by the development of wood-look custom tiles. Available in "planks" up to four feet long, they are used for floors and walls. Wood-look planks are just one of the large size tiles finding their way into bathroom remodels. The top three are;
Wood-look planks – available in various widths with lengths up to 48 inches these non-traditional tiles opened new avenues for versatile, functional designs. First introduced for floors where a hardwood look was desired but water was factor, they have expanded their appeal. Available with dozens of traditional and exotic wood grain and finish looks – from maple, oak and cherry to distressed reclaimed barn wood and most anything in between. For a really rustic look designers mix and match natural stone tiles with wood-look pieces. The result is dramatic and low maintenance.
A marble look – natural stones like marble and slate are available in large sizes ideal for use on floors. Marble has always been associated with bathroom luxury. Marble has interesting patterns all its own. There are several brands of porcelain tile successfully mimicking the marble look, too. Where budget is a concern, the marble-look tiles make sense.
Porcelain and Ceramic options – modern manufacturing techniques create porcelain and ceramic tiles in large sizes today. Add the latest in laser printing and large tiles with intricate details are made possible. These tile options can replace stone and heavier materials in bathroom design.
Bathroom Tile Choices – Seek Professional Advice
Tile professionals offer words of caution for anyone considering working with large tiles on their own:
"The new large format tiles are far more difficult to work with than their smaller counterparts. They are brittle and heavy – make sure you buy far more than you think you'll need because they break much more easily. Not only do large tiles and tile planks need special handling, they require specialized tools for cutting and positioning, too."
The bathroom is one of the most popular rooms targeted for renovation – sharing the top spot with the kitchen. Is there a bathroom makeover in your future? If there is, you'll have dozens of decisions to make. When it comes to picking the perfect tile, we're ready to help. Big, complicated tile projects are best left to professionals with experience, training and all the right tools. We're here to supply them with the "building blocks" for the job. If you're heading into a DIY project, count us in for help any way we can.